The digital age brought massive changes to the way we live. Globalisation and technical progress have had many effects on most aspects of life. Not all of those can be described as positive in the way of helping the majority. So said majority went to the streets, demanding political change and fair wages.
In 2011, the Arab Spring gained momentum very fast by using twitter and Facebook to quickly organise demonstrations. Later that year, the occupy movement also was successful because many of the participants were digital natives. Also, they had support from anonymous.
But Twitter is not the only possibility offered to demonstrators by technology. There's also Instructables. And 3D printers. Here are some riottech projects, found in the streettoolbox.
the streettoolbox
The streettoolbox is a collection of open source projects helping to raise alternative voices in an urban environment, transforming the way people fight for their rights
The projects are assessed in four areas. As you can see below, Risk summarises the possibility of you getting in trouble. Ease and Impact are rather self-explanatory. Experience is not about the required level of know-how, but about how fun the performance of the project is.
I will echo the assessments of each project. Where none is given I make one and mark it with a star*. Along with the assessment, you'll find a link to the assembly instructions, a short description, and, wherever emerging, my improvement suggestions.
Also, since there are many ways to get things, I will highlight if you need a 3D-printer or other modern tech for the assembly.
the collection
guerilla Beam – handheld image projector
Risk: 0/5 Experience: 4/5 Ease: 4/5 Impact: 3/5 * - website - instructions
Take a high-power flashlight, a 35mm lens and 3D print an adaptor. Combine them, and you have your handheld guerilla projector. The only thing left now are the slides, which you can print on transparencies with your desktop printer. Cut them to size, fit them into 35mm slide frames, and your riottech projector is ready to go! The project is well documented, featuring a drag&drop-image converter.
improvement suggestions
This image features a strip of slides, which can be slid through the projector for a quick change. I suggest a fixture to roll them up on both sides and slip them back and forth, like camera films. If possible, this contraption could translate one gesture into the translation of exactly one picture, so you don't have to handle any scrolling.
After projecting pictures has been covered, my suggestion for the next big upgrade would be a transparent digital screen. Transparent where no black or colours are shown, this could then be used to project video feeds or gifs. Control might be supplied by a microprocessor like an Arduino or a raspberry pie. Hence, his might be realised as a standalone version reading from an SD-card, or with a smartphone connection.
3D-Printer needed: yes
OpenSquare – R/C Car plotter
Risk: 2/5 Experience: 5/5 Ease: 4/5 Impact: 3/5 - Instructions
This one is made from a cheap radio controlled car. It gets equipped with an upcycled hopper, a nozzle, and a way to let the hopper's content slide out at will.
This content might be anything, mostly people use salt, sugar, or flour because these are cheap and can be washed away by the rain. Therefore they aren't to be considered vandalism. I propose mixing in flower seeds, so you can integrate some guerilla gardening, while you're at it.
The sliding out of the Hopper's content is controlled by the fifth channel. While in some r/c cars this is used for extra functions, it stays unused in most. But for mass manufacturing reasons it still gets built in. Comes in handy for riottech projects like this.
Now you can drive the car where you want, leaving a trail visible from above. But while it's difficult enough to write any visible text or logo solely by controlling a rc car, it's even more so while being in the middle of a demonstration. Therefore, you can drive the pattern beforehand, and record the movement. Then you can play it by the press of a button when it's time.
improvement suggestions
Though this gives you the opportunity of trying it as often as you want and is a lot easier than doing it in the heat of the moment, it's still way more difficult than seems necessary. So it might be great to have a tool which translates vector paths into car commands, inserting loops for narrow angles. To adjust the program to the special car, some test patterns might be thought up, testing the minimal turning circle and steering angles, as well as maximum speed and acceleration. Also, live scalability might be a good idea, for adjusting to different square sizes. Being visionary, this could be mapped using an augmented reality device. But until we have good and affordable ones of those, pre-rendering different sizes might suffice.
3D-Printer needed: not for simple designs
bank note stamp
Risk: 1/5 Experience: 2/5 Ease: 4/5 Impact: 3/5 - Instructions - Website
A recent example for this was a chinese anti-censorship-group stamping QR-codes onto banknotes. Those led to a firewall-busting web page, enabling the user to access all of the internet. There's also a big NGO campaign running to keep money out of american politics, supported by Ben & Jerrys. Yup, the ice-cream guys.
Bank notes are made of paper and literally touching everyone. So stamping them is a simple means to spread small amounts of information to a lot of people. The audience is random, though. Also, one shouldn't stamp too much of the note, so it still gets accepted. It's legal, by the way. At least in the USA.
This stamp can easily be made out of many different materials. Starting with potatoes, you could also use things like sugru or an eraser. For better quality, you might use lasercut or 3D-printed rubber-like materials.
improvement suggestions
Tracking the note's movement. Here are some tools for tracking Euros, as well as Australian, Canadian and US Dollars.
3D-Printer needed: only for high quality.
reverse graffiti
Something is wrong. Response takes too long or there is JS error. Press Ctrl+Shift+J or Cmd+Shift+J on a Mac.

Risk: 2/5 Experience: 3/5 Ease: 1/5 Impact: 4/5 - Instructions
Also called clean graffiti or grime writing, this describes a technique of doing graffiti on dirty surfaces by cleaning them partially. The simplest example is writing 'wash me' on dirty car windows. Mostly, though, people use stencils and high-pressure cleaners or sandblasting units.
Since this actually cleans walls, this technique can't really be considered vandalism. Also, the only way to 'remove' it is cleaning the whole wall, which also is a good thing.
3D-Printer needed: no
fofoque-me: Vox Populi – automated megaphone
Risk: 3/5 Experience: 5/5 Ease: 1/5 Impact: 5/5 * - Instructions
Originally proposed to allow an exhibition's visitors to participate and share their opinion, this makes for a great riottech tool. It consists of one or a series of automated megaphones, turning received messages into public speech. The messages can be anonymous SMS as well as emails, voice messages or tweets. Something with a limited character count might be a good idea, as it keeps the announcements from getting too long.
Though open access technology like this is a great thing for showing public opinions, it also has the downside of the aforesaid openness. Everyone can share their opinion, also if it opposes the initiator's one. Some kind of editorial control might be technically possible, but might be problematic for someone propagating free speech.
improvement suggestions
In the original, the megaphones are motorised and twist and turn. This is due to the project coming from an art installation, where people would look at it. For real riottech use, I suggest a compact, unsuspicious design which can be strategically placed.
3D-Printer needed: not for this design, maybe for simpler ones.
Fade – Laser Projector
Risk: 4/5 Experience: 4/5 Ease: 2/5 Impact: 3/5
One of the more sophisticated riottech projects – basically a small hidden laser projector. A wall is thinly sprayed with nightglow paint and the laser-containing box is fixed opposite, focused onto the prepared wall. Then, following some interval, the programmed message is beamed onto the wall very quick, so it's not possible to make out the laser's source.
No improvement suggestion here.
3D-Printer needed: no, but you need a lasercutter or a good tablesaw.
Revolution – bike-tyre-stamps
Risk: 2/5 Experience: 4/5 Ease: 6/5 [sic!] Impact: 2/5 - Instructions
This allows you to print your slogan on the pavement every two meters. If you use water-soluble ink it's not even vandalism. The only thing you need is 3D print some flexible stamps, the round stamp pad, a 3D-printed holder for it, and some cable ties.
You print the stamps you need, strap them to your tyre with the cable ties, and attach the stamp pad with the holder to the bike. This way, the bike leaves a trail of a slogan every two meters.
improvement suggestions
Giving the stamp pad wheel some distance to the bike wheel might keep the wheel from leaving a trail of its own, therefore giving more clarity to the letters.
Also a Longboard version might be possible, but due to the small wheels there would only be space for small or short text or a logo. Also, it would be stamped without almost without spacing if no other solution is found.
3D-Printer needed: yes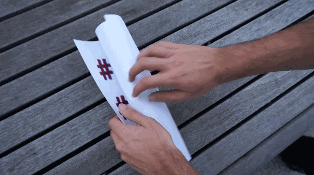 drone flyer
Risk: 3/5 Experience: 5/5 Ease: 1/5 Impact: 4/5
My favourite, but maybe just because I like drones for their potential of extending everyone's abilities in so many ways. Also, as the project states, they are highly under legislated, which makes them attractive for all kinds of riottech projects.
This is an extension for drones, allowing them to carry a sticker. They can stick it to a wall or window, if printed on the sticky side, so it can be read from inside the building.
Apart from the drone and the stickers, this consists of 2mm copper rods, foam board, rubber bands, and duct tape.
improvement suggestions
The inventor suggests incorporating a price-tag-gun-like mechanism for sticking several images in one go. In addition, I suggest an optimised version of the sticking process. Using the force of the drone bumping gainst the walls, some arms & wheels might sweep the sticker's corners, ensuring complete adhesion.
3D-Printer needed: not for a simple version, maybe for updates.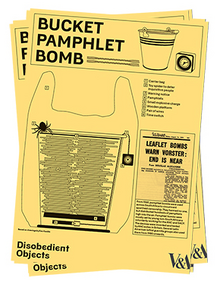 Leaflet bomb
Risk: 5/5 Experience: 4/5 Ease: 2/5 Impact: 2/5 - Instructions
Those contain of a bucket, a small explosive, and stacks of flyers. strategically placed, these bombs can dispatch and spread huge amounts of flyers in the moment the explosives are activated remotely or by time.
Since I don't think placing explosives in public spaces is a good thing to do, I do NOT recommend this method. The chance of hurting people is way too high, and collateral damages are no way to make anyone adopt your views.
improvement suggestions
But, as one of my profs in design schools said, you should unfold every idea because there might be aspects, details, or small grains of greatness even in bad designs. Applied to something else, these might heave a design from good to great.
In this case, it's not that difficult. Just replace the bomb.
Equipped with a simple fan and a battery, spreading flyers from strategic points on the push of a button, or time-controlled is still possible.
3D-Printer needed: no
conclusion
There are many additional things that can be done. I suggest hiding small waterproof radios in manholes to make them talk or sing, and drone swarms forming LED Banners, displaying slogans. Also, moss graffiti might be suited in this list.
Some of the practices described here might be used in ways conflicting with existing laws. Use them at your own judgement.
So what do you think? Are you as eager as I am to build one or two of the proposed projects, only to see how they work? Or do you know of any projects I missed? Drop a comment!
---
Also published on Medium.